Having friends at home is all good. Even better if the reception is in style! And gather the whole relatives around the table for Sunday lunch Who doesn't love it? Did you think of an ideal space for all this? Yes, the Dining Room!
Transitioning between the living room and the kitchen, this environment, whose original function is to accommodate people during meals, has played an even more special role in the home: meeting and receiving. And that's even why the dining room is gaining more and more attention when it comes to decorating.
In addition to the dining table and chairs, the decor of this environment also involves choosing the colors of the walls, niches, shelves, support furniture, such as buffets and sideboards, and much more. With that in mind, let's separate several references for you to be inspired and, why not, give your Dining Room a boost. Come on!
Dining room with bench
For those who have plenty of room, betting on home bars in the form of a stand is a great option to receive friends. But, this tip is also valid for those who want to integrate the kitchen with the dining room. What about?
1- Countertop Style Home Bar
Dining room with countertop style home bar. The ideal environment to receive guests and promote a happy hour without leaving the house.
2- Tropical style
Natural elements can also be part of the Dining Room decor. The Tropical style inspired this one.
3- Retro style
Retro kitchen integrated into the Dining Room by a countertop.
Dining room with Buffet or sideboard
After the table and chairs, the sideboard is the most common piece of furniture we see in dining rooms. It is a great ally, as it serves to decorate and even store everyday objects. Ah, but when it comes to storing dishes, cutlery, and other utensils, the Buffet is the best option, as it has extra doors and drawers.
4- Sideboard
The sideboard can also work as support when serving the meal. Here he accommodates the wines and glasses, leaving the table free for the guests.
5-  Tableware
Dining room with a sideboard to support tableware.
6- Romantic and Delicate
This environment shows how romantic and delicate style also has everything to do with the Dining Room.
7- Light and Neutral
Light and neutral tones bring a feeling of spaciousness to the Dining Room. An excellent tip for those who have limited space in this room.
8- Round Table
The highlight of this Dining Room is the round table, which attaches to the chairs when not in use—another excellent tip for those who have little space at home.
9- Modern 
Modern Dining Room with a burnt cement wall.
10- Frames and Decorative Items
The decoration of the Dining Room can also be playful. Why not? Fun frames and decorative items that are out of the ordinary are welcome in these cases.
11- Sober Tones
If you choose sober tones on the Dining Room walls, the tip is to contrast them with white furniture. The result will surprise you!
12- Dark Wallpaper
Speaking of walls… For those who don't want to mess with paint, wallpapers are the perfect alternative to boost your decor while spending little.
13- Light Wallpaper
Another example of a Dining Room with wallpaper. Now, with a more tropical and natural feel.
14- Single Accent Wall
It's also worth choosing a single accent wall to receive the wallpaper, like this Dining Room.
15- Vibrant Colors
Dining Room inspiration with vibrant color on neutral walls and furniture.
16- Sober Color Pallete
If the Dining Room color palette is all sober and closed tones, a mosaic of paintings is welcome to unwind.
17- Chairs
Here the color was on account of the chairs. 
18- Mixing colors and Shapes
And who said the Dining Room chairs all have to be the same? Mixing colors and shapes is a trend that is here to stay.
19- Earthy Tones and Moldings
Dining Room in earthy tones and moldings on the walls.
20- Parties
Inspiration to decorate the Dining Room at the end of the year parties.
21- Neutral Furniture
Neutral furniture makes it possible to create endless table decorations.
22- Relaxed Dining Room
Relaxed dining room, prepared for parties and meetings with friends.
Dining room with bookcase, yes you can!
Do you know that old bookcase in the office? Why not bring her to the dining room? Bookshelves are wild pieces that go well in all homes and the dining room; they get a more alternative, modern, and personality-filled look. 
23- Fancy Bookshelf
For those who have plenty of space at home, including an extra area to receive visitors, as in this environment, is a fantastic idea.
24- Geometric Wall
Dining room with a geometric wall, a trend that is booming in the world of decoration.
25- Contrast with chairs
Another geometric wall option, now simpler, is the same color as the set of chairs.
26- Plants on bookshelf
Dining room with shelf used to store tableware.
27- Wood
How about investing in a special coating for the Dining Room walls? Here, the demolition of wood brought more warmth to the environment. 
28- For Utensils
Shelves are great supports for utensils as well as kitchen supplies.
29-  Blackboard Wall
Shelf once again used as an ally when storing. And in this environment, the highlight is the blackboard wall: modern, decorative, and super helpful at the same time.
30- Furniture in dark tones
Furniture in dark tones calls for walls, floors, and decorative items in light colors.
31- M
ix Utensils and Decorative Objects
The versatility and the various compartments of the shelves allow you to mix utensils and decorative objects in the same piece of furniture.
Simple dining room
Leaving supporting furniture aside can be a necessity when dining room space is restricted. In these cases, the tip is to make the most of the walls with niches and shelves. It is also worth investing in lighting through charming pendants.
32- Eames chair
Eames chairs are darlings when it comes to Dining Room.
33- Cozy and Modern
Cozy and modern Dining Room.
34- Glass Tabletop
Transparencies, such as the glass tabletop, and hollow elements, such as chairs, increase the feeling of spaciousness in the environment.
35- Scandinavian Style
Another example of a simple Dining Room in light tones. The Scandinavian Style now inspires it.
36- Pendant in Centre
The pendant can be the highlight of the Dining Room decor. A tip: try to leave it centered at the table.
37- Striking Pendant
Another idea of ​​a Dining Room with a striking pendant.
38- Half Painted Wall trend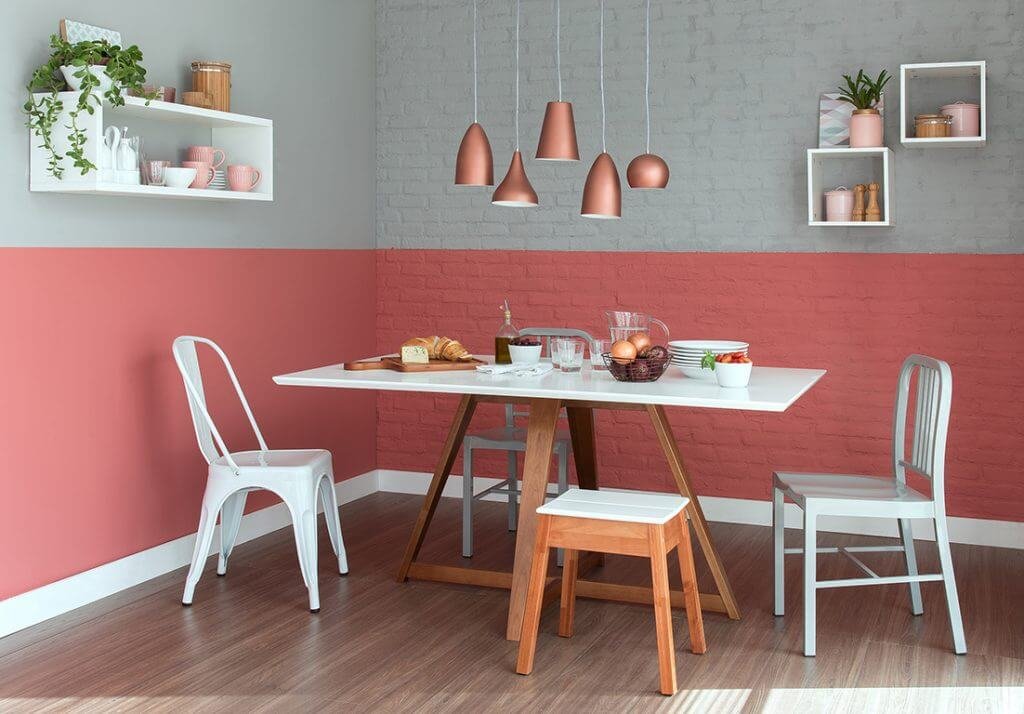 The Half Painted Wall trend, widespread in living rooms and bedrooms, can also appear in the Dining Room!
39- Oriental
Dining room with oriental inspiration.
40- Black and White
And who said total black and white decor is dull? Look what an incredible inspiration.
41- Cozy Dining Room
Cozy dining room with wine cellar.
42- Industrial Style
Dining room with bench, inspired by the Industrial Style.
BONUS: Integrated Dining Room
It's been a while since she became a darling. With the growth of lofts and small apartments, integrating the dining room, whether in the kitchen or living room, has become a trend. So, here are some more inspirations…
43- Behind the Sofa
The Buffet behind the sofa serves as a divider between the two environments.
44- Corner of living room
One way to bring continuity is to unite the living and dining rooms with the same decoration on the walls.
45- Round With Tv
​​Don't have room to dedicate exclusively to the Dining Room? Everything is fine. Look what a fantastic solution this is here.
46- Integrate with kitchen
And integrate the Dining Room with the kitchen?
So, have you already become an expert in Dining Room decor? If you're excited to renew yours, come check out all the news for this environment on the Decoration Love website.