Make the Easter lunch table enchanting with themed arrangements, that is, elaborated with flowers, eggs, bunnies and other items.
Easter is coming and nothing better than designing an original decoration to celebrate this date. In addition to the traditional fabric bunnies around the house, it's worth betting on an arrangement to decorate the main table.
Easter Arrangement Ideas to Decorate the Table
1. Arrangement with tulips and sweets
The tulip is not such a popular flower species in Brazil, but it is usually very successful when it comes to Easter arrangements. Each tulip colour has a special meaning, as is the case with yellow, which symbolizes sunshine and prosperity.
To make an Easter arrangement with tulips, just provide a clear glass vase, fill it with yellow candies and place the flowers. The result is a sophisticated, elegant and symbolic ornament.
2. Arrangement with eggs and branches
The Easter arrangement doesn't necessarily have to have big, showy flowers. You can bet on composition with coloured eggs and dry branches. Use a clear glass container to assemble this ornament.
3. Arrangement with chocolate eggs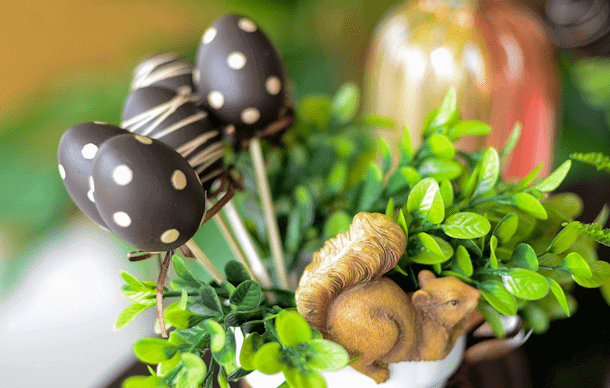 If you want to leave any arrangement with "Easter" air, then bet on the chocolate eggs. You just need to provide some copies of this candy, put them on barbecue sticks and use them in the decoration.
4. Arrangement in the ostrich egg
The egg is one of the main symbols of Easter, after all, it represents birth and life. To enhance this symbology through the decoration, it is worth betting on the arrangement mounted inside the ostrich egg. That's right! Choose a very beautiful plant (the orchid, for example) and place it inside the eggshell, as if it were a vase.
5. Arrangement with roses, tulips and eggs
The Easter arrangement shown in the image above combines roses, tulips and other flowers in a harmonious way. It would be a common arrangement, except that it was inside another container, surrounded by coloured chicken eggs. Each egg was decorated by hand, with painting and lace detailing.
6. Arrangement with flowers and fabric rabbit
Provide a tall glass container. Then, place two kinds of orange flowers inside it, such as the gerbera. Choose a bunny that matches the vibrant tone and complete the ornament.
7. Arrangement with nests
If the egg is a legitimate symbol of Easter, the bird's nest can also fall into this category. In the image above, we have an arrangement with three floors, which values ​​small nests with painted eggs. It's chic and fun!
8. Arrangement with tulips and painted eggs
Tulips are traditional for Easter, so you can incorporate them into your arrangement. Choose a few specimens and place them in a wicker basket. Don't forget to add decorated chicken eggs.
9. Arrangement with colourful flowers and eggs
The Easter arrangement can be made with flowers of different species and colours in order to create a cheerful and beautiful decoration. To make the composition more themed, don't forget the coloured eggs.
10. Arrangement with egg carton and succulents
Easter can be arranged in a different and somewhat non-standard arrangement, as shown in the image above. The idea is to cultivate succulent plants inside the eggshells and store them in the product's own packaging. It's cute, right?
11. 2-story arrangement
Use a double-decker bracket to assemble this arrangement. On each floor, place small oval containers with yellow tulips. The result is incredible and looks beautiful in the centre of the Easter table.
12. Mini arrangements
How about making small and delicate Easter arrangements? Just grow the plants inside the painted chicken eggshell. Choose a species with a compatible size and wait for it to bloom.
13. Arrangement with flowers and carrots
Carrots are the rabbit's favourite food, so it's natural that they have a guaranteed space in the Easter decorations. To make the arrangement of the image above, simply place large specimens of the vegetables in a glass container. Then add yellow and white flowers.
14. Arrangement with flowers and eggs
This Easter arrangement is very beautiful and simple to make at home, after all, you don't even need to decorate the chicken eggs. Choose beautiful and delicate flowers to enrich the ornament.
15. Arrangement with candles and bunnies
Provide small white porcelain rabbits. Then fill a long tray with grass and distribute white candles. Complete the decoration of the arrangement with eggs and flowers.
16. Arranged with foliage and chocolate bunny
The Easter arrangement does not necessarily need to be coloured. You can only work with two colours in order to make a more modern composition. The arrangement above emphasizes green and brown. This arrangement of Foliage and chocolate bunny will definitely look attractive and beautiful.
17. Arrangement with tulips in baskets
Wicker baskets, which are normally used to make Easter baskets, can make beautiful centrepieces. You just need to fill them with tulip samples, in orange and yellow.
18. Arrangement with tulips in a large nest
Can you imagine setting up the Easter arrangement inside a large nest? So know that this is possible. Provide some sticks and wrap the tulip basket with this material.
19. Easter arrangement with confections
Buy very large chicken eggs and empty them. Then break off apart, as if a chick had snapped. In this small container, place M&Ms or other coloured confections. When the arrangement is ready, just place it on the Easter lunch table, along with other scattered chocolate chips. It's fun and original.
20. Easter arrangement with white tulips
Are you looking for clean, minimalist Easter decor? So bet on making arrangements with white tulips. Place white eggs in a clear glass vase. Then arrange the tulips inside the container. This super beautiful ornament has everything to do with the Easter spirit, as it conveys the idea of ​​forgiveness.
21. Arrangement with glass containers
Cups, flasks and small vases were transformed into arrangements to decorate the Easter table. Chicken eggs complete the decor of the tray.
22. Arrangement with moss
Among the many decorating ideas, consider projects that use natural materials, such as this arrangement with moss. The composition is even more beautiful when it has real flowers and branches. Learn step by step.
23. Wreath
You can make a wreath with egg boxes and decorate the centre of the main table. Complete the decoration with real flowers and coloured eggs.
24. Arrangement with daisies and eggs
Small flowers, such as daisies, look amazing inside chicken eggs.
25. Arrangement with hydrangeas and branches
In this project, branches were used to cover a glass vase and make it look more rustic. The delicacy of the composition is due to the chosen flowers.
26. Arrangement with painted bottles
To make Easter even more special, create a composition on the table with painted milk bottles. Don't forget to place delicate flowers inside each container.
27. Arrangement with white and succulent flowers
Here's an idea that is easy to make and that matches the current trends: an arrangement with white and succulent flowers. The mixture of colours and texture makes everything more beautiful.
28. Arrangement with flowers and marshmallows
Pink and bunny-shaped marshmallows adorn the transparent vase and steal the show in the arrangement.
29. Clean arrangement
The centrepiece of the table is a transparent vase with white flowers and decorated eggs. Everything clean, smooth and minimalist.
30. Tray with eggs, flowers and succulents
The tray with green grass serves as a support for eggs painted in pastel shades. Inside the shell of each egg are succulent plants and delicate flowers. Everyone will love this decor!