The living room can be considered the main room in our house, being responsible for uniting family and friends, creating delicious memories. At the same time, the space is also suitable for when we want to relax in the company of a film and a blanket.
With this, it is important to think that decorating the room with your personality and a little dedication, the result, whatever the moment, will be much more pleasant and functional. To help you, check out the main decorations to make this space cozy and versatile.
Start by choosing the ideal sofa
Being the centerpiece of this room, the sofa is a great starting point to start decorating the room . For this, take into account the practicality of the piece, as well as its style. Start by thinking about the usefulness of the furniture, if you usually receive a lot of people and, therefore, need many places, but always with the space available for this in mind.
With the functionality defined, choose a model that follows your favorite decorative style. An option for those who want a versatile piece is to invest in a fabric that is easy to clean and in a neutral tone. A smooth and discreet piece makes your decor easier to renew, changing only the accessories that complete it.
Choose a color palette
Once you have your main piece defined, it's easier to create a palette of tones to use in decorating the room. Starting from the tone of your sofa, choose one or two more tones that complement it, to be used in other parts of the room.
Select the necessary furniture…
Along with the sofa, having a rack and a coffee table, either side or center, is essential to make your room practical. A rack, in addition to serving as a support for your television, if it has doors or drawers, is great for storing items and keeping the room more organized. Meanwhile, the tables support controls, magazines, a lamp and a cup of coffee.
…And Fill the look with other pieces
Now that you've selected the essentials for a practical room, if there's still room and need, complete the room with items such as shelves, sideboards, ottomans, stools and a cozy armchair. These options, in addition to bringing charm and defining style, help to organize and make your space more practical.
When betting on different items for your living room, don't forget to keep a good free circulation area between the furniture.
Bet on the use of textiles
The next step is to warm up your space using textiles. Here come rugs, curtains, blankets and pillows . In the case of the last two, you can place them on the sofa or in armchairs, bringing charm, comfort and functionality to the room.
These products are also great options when you want to renew the look of your living room. To do this, just change the arrangement of the pillows or select other pieces and vary from time to time.
Fill in the spaces with decorative objects
For the corners that were still empty, bet on the use of decorative objects, such as picture frames, little boxes, trays and vases, for example. You can place them on tables and sideboards, as well as on shelves and shelves, bringing sophistication and charm to every space in your room.
Bring charm to the walls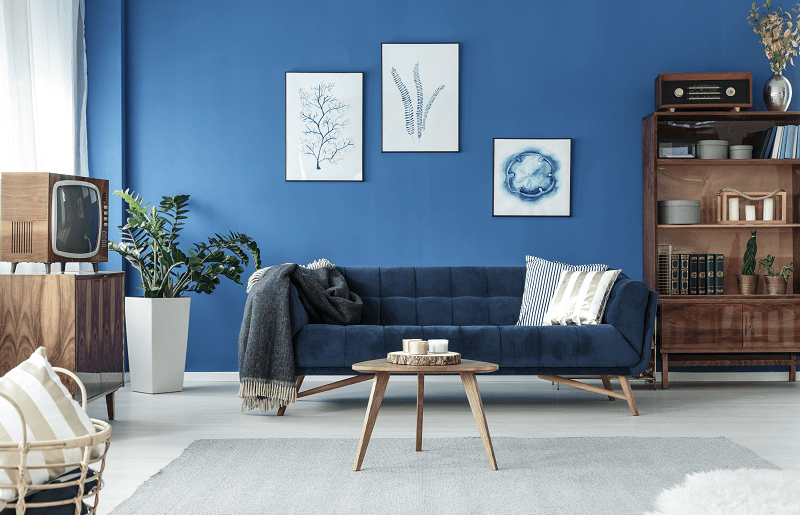 If you are decorating the room , an interesting tip is to bet on the walls to complete the style room. For this, one idea is to highlight one of the walls of the space through a more vibrant color, wallpaper or a gallery wall.
Pay attention to lighting
A living room is used for different moments and each one asks for different lighting. In this case, it is important to have a central point of light that illuminates the space well. Complement it with indirect lighting through light fixtures or dimmer bulbs in yellowish tones, which bring comfort to the eyes and a more intimate and relaxing feeling.
Finish the look with plants and flowers
To finish with great elegance, count on the delicacy of plants and flowers to give your room life and personality. Whether through small flower arrangements in vases or a small tree that stands out, green is responsible for bringing a feeling of coziness and a lot of style while decorating the room.