With red berries, glitter, gold accents or LED lights, these 20 festive Christmas wreaths will fill your home with magic, light and the Christmas spirit. Christmas is here and with it the fir trees, the shiny decorations, the mistletoe and the crowns to dress our house, so follow our video tutorial step by step. The decoration of the exterior is as important as the interior, because the Advent wreaths become the best welcome sign in your home.
It is always good to know the Christmas trends in decoration to get your home ready before Christmas Eve arrives. Christmas wreaths are the representation of eternal life. Laced with the laurels and fresh twigs that marked the achievements of the ancient Greeks and Romans; even the Persians used headbands or vegetable headdresses as a symbol of power. The leaves of evergreen plants refer to eternal love or eternity and the use of red fruits or berries and thorny leaves symbolize the crown that Jesus wore in his last days. It is a representation of spiritual and historical importance.
In our homes, Christmas wreaths have become important allies in Christmas decorations. These decorations last two to three weeks, when made with fresh vegetables. If you hang them on the outside of the door in a place with cold weather, they can be kept for several more weeks. This Advent wreath in green and gray tones is a wonderful idea from interior designer María Salazar.
WHEN IS THE ADVENT WREATH PUT ON?
This centerpiece, to which four candles are added, which are lit on the four Sundays of Advent. This ornamental element usually decorates homes from the last Sunday in November until Christmas Eve arrives. The garland that makes up the arrangement is usually with natural elements, pine twigs and pinecones, and some Christmas decorations. Its round shape makes it perfect to use as a wreath to hang on the door, which you can leave until January 6, when the Three Wise Men have already arrived home.
Crowns with natural materials are a rising value, due to their eco-friendly spirit . Make crafts with twigs, dried or green leaves and dried fruits, such as walnuts, hazelnuts, chestnuts … We also like the more sophisticated crown designs in which you can use felt, skeins of wool, pompoms, fabrics … Here you can See these ideas for making Christmas wreaths for doors.
CHRISTMAS WREATH FOR KIDS
The little ones in the house enjoy these dates like no one else. Prepare a handmade craft with a green leaf garland -laurel, ivy or pine-, some Christmas balls and include in the arrangement some trinkets or homemade gingerbread cookies, which you can cook together with your children.
Another idea is to do a DIY activity with colored paper, with paints or with recycled elements. For example, choose a green card and outline your children's hands, cut them out, glue them in a circular shape to create a circumference and finish with a red bow, which can be made of cardboard or tissue paper.
In short, Christmas wreaths cannot be missing in the decoration of our houses, because they provide a magical and festive spirit. Green, with red berries, glitter or LED lights, the options are very varied, you can opt for the most classic or for those modern and original. This warm and welcoming selection will make you wish for Christmas.
1- BERRIES
Advent wreath, with ivy and red berries. Maisons du Monde is right with this classic-style wreath combining the typical colors of Christmas: green and red. It measures 42 cm.
2- GOLDEN DECORATION
Christmas decoration, door wreath in gold. For an elegant Christmas, decorate your door with this golden crown, from Zara Home. Measurement: 31 cm.
3- TEXTILE
Textile christmas wreath with leaves and bird, in felt, by selfridges. If yours is not the typical Christmas decoration, this wreath is for you, simple and natural, without red ornaments or striking green leaves. It's from The White Company.
4- RED BERRIES
Centerpiece or Christmas wreath with red berries. Berries are one of the essential elements in Christmas decoration, we love them in branches placed in vases, garlands in the fireplace or in wreaths like this one proposed by the Eminza firm.
5- GREEN AND NATURAL
Christmas wreath with pine cones. This El Corte Inglés wreath is perfect for a simpler Christmas decoration. As it does not have many decorations or berries, you can easily combine it.
6- BRIGHT
Christmas or advent wreath. Fill your home with magic with this luminous Christmas wreath. It has LED lights.
7- GREEN AND GOLD LEAVES
Green and gold crown. This Advent ornament is sophisticated, brings elegance and Christmas spirit. The crown measures 46 cm.
8- CLASSIC
Crown with red berries, if you like the classic style, this Christmas wreath is for you, with green leaves and red berries.
9- GLITTER AND LED LIGHTS
Minimal white crown
With a minimalist style and white color, this Christmas wreath is different and very original. It has glitter and LED lights, perfect to illuminate the interior of your house. In The English Court.
10-

AUTUMNAL
Branch, Twig, White pine, Wreath, Tree, Christmas decoration, Pine, red pine, Plant, Feather. This autumn-colored wreath with silver accents captures the magical spirit of Christmas. It measures 48 cm.
11- BRANCHES AND RED BERRIES
Leaf, plant, holly, flower, christmas decoration, wreath, fashion accessory, berry, branch, fruit. Made up of branches and red berries that seem freshly picked from nature, this Christmas wreath is ideal to decorate your door with style.
12- IN WHITE
Christmas wreath
This Christmas wreath combines the white of the snow with the pine cones, in addition, you can see a few drops that resemble dew. It measures 50 cm.
13- LESS IS MORE

Natural crown vinter
No need for glitters, colored berries or LED lights, in simplicity is true elegance. This crown is very simple handmade. It measures 23 cm.
14- RED, VERMILION OR SCARLET
Red is one of the most typical colors of Christmas and cannot be missing in your decoration. Complete the centerpiece with candles and nuts: hazelnuts, walnuts, chestnuts … You have it at Maisons du Monde.
15- IN SILVER AND GOLD
white crown with silver pineapples. This is committed to natural fiber to dress the Christmas tables with this wreath with silver and gold sparkles.
16- NEVADA
If there are snowy Christmas trees, why not wreaths? We love this and it is ideal hanging on the door. It measures 40 cm.
17- WITH PINEAPPLES AND BERRIES
This Christmas wreath is one of the most festive, with decorative pinecones and berries. Buy it from Leroy Merlin. It measures 34 cm.
18- PINE NEEDLES, PINE CONES AND SNOW
Artificial wreath with snow pineapples and berries, from amazon. Amazon offers you this Christmas wreath is one of the most original, with pine cones and snow.
19- WITH CHRISTMAS DECORATIONS
This wreath was envious of Christmas trees and wanted to copy their festive decoration. You have it on Amazon, in 28 cm.
20-  WITH A LOT OF HEART
Can it be cuter? This green Christmas wreath with a red heart exudes charm. It measures 30 cm. At Ikea.
21- CROWN IN GREEN WITH COWBELLS
Advent wreath
A crown made with green leaves (natural or artificial) and in the center a maxi loop with several XL bells or cowbells hanging.
22- PARTY CROWN
A wreath with green pine twigs, pine cones and leaves painted in gold. Above, in the center, several ribbons in a large loop.
23- WITH SKEINS OF WOOL
A crown made with balls made of wool. In the center a star and some felt or wood flakes between the balls.
24- WOOL, FELT AND HOLLY
Crown made of gray wool (a hoop lined with wool) with a gray and red felt flower and sprigs of holly.
25- WITH COLORED FELT
A similar idea to the previous one, a crown lined with strips of colored felt and an ornament at one end, also made of felt, in the shape of a holly. You can stick it with a few drops of hot silicone or textile glue.
26- WITH CARDBOARD CUPS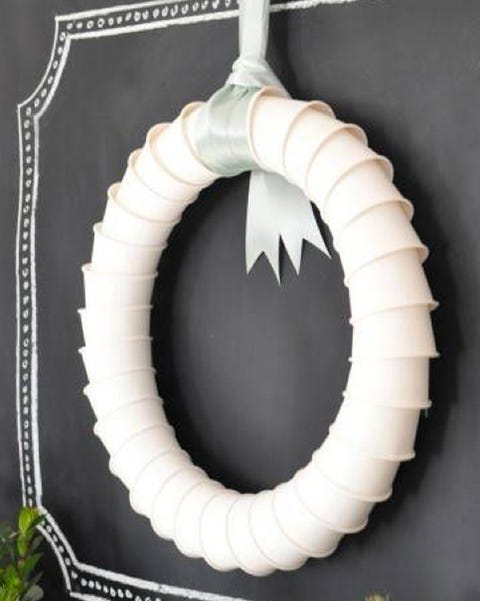 Very easy! You just have to go through white cardboard glasses with a wire and mold the wire in a circle. Then tie a ribbon and hang on the door.
27- WOOL AND FELT
Two warm and easy-to-work materials to make a Christmas wreath. The circle is covered with rolled wool. The ornament is different flowers made with felt in green and red. Copy the idea!
28- FABRIC YO-YOS
Do you know what a cloth yo-yo is? It is a textile strip that is gathered and closed in a circle. With them it is possible to make a crown of this type. This same idea can be done with folded paper circles.
29- WITH HANGING CHRISTMAS DECORATIONS
A round wreath, made of molded wooden branches, from which some Christmas decorations hang.
30- HEART SHAPED
Instead of a circle, a heart. It is the base of this wreath with some holly branches hanging from the center, tied with a ribbon.
31- WOOL POMPOMS
A crown made with colored wool pompoms.
32- SANTA CLAUS
This crown is a work of art. It's Santa Claus at the door!