The 'blanket' and movie plan is always one of the most appealing. Take a look at our selection of blankets to be more comfortable and warmer than ever on your sofa. In the colder months there is no plan that you want more than a sofa, a blanket and a movie. In order to enjoy this plan as you deserve, the first thing you have to bear in mind is that the decoration of your living room must be cozy. This is achieved by creating warm environments, with seasonal textiles and with colors that surround you and invite you to stay there. In addition, here the lighting also plays a very important role, the lamps for the living room are an element that we must always take into account when creating a comfortable atmosphere in our living room.
Once we have the atmosphere created, it is time to choose a movie and a good blanket to lie down to enjoy. Before choosing a blanket for the sofa you have to take into account several things. The first, how many people is it for? What style of decoration predominates in your living room? Are you very cool? Choosing the most suitable sofa blanket is not as simple as it seems. That is why we have made for you a selection of our 30 favorite sofa blankets perfect to spend rainy afternoons tucked in on the sofa. Prepare your favorite coffee recipe and take the book you are reading, the only thing you need is to choose the blanket that best suits you from our selection.
In this list of 30 sofa blankets you will find from the most delicate wool and cotton blankets to the warmest ones made with flannel. Many of the blankets we have selected are available in various sizes, colors and finishes, so you can choose exactly the one that best suits you. Many of them are two in one, they can also become the star element that makes your bedroom the most welcoming.
In addition, we have also included in this selection the most special blankets, for example, one with sleeves for the coolest people, one with luminous panels that glow in the dark and a blanket that seems to be taken from the same rainbow. If you are looking for original elements, these are without a doubt. That is why you cannot miss our 30 favorite sofa blankets that you will want to have in your living room.
1- PLUSH BLANKET
Elegant blanket with velvet finish for pleasant warmth. It is available in a wide range of colors and in up to four different sizes, from a sofa blanket to a large bed.
2- FLEECE BLANKET
Extra soft and reversible flannel and sherpa blanket with a stylish look perfect for the bedroom or living room. Available in two sizes and in different colors so that you can choose the one that best suits you.
3- FUR BLANKET
A very soft to the touch blanket, perfect for the sofa or as a decoration on the bed. It is available in black and white and in two different stockings.
4- KNIT BLANKET
Knitted blanket, soft to the touch, light and warm. In beige and with tassels to add a decorative touch to your sofa. It can also be used as a bedspread on the bed.
5- ZIG ZAG DESIGN BLANKET
Velvet blanket, available in three different sizes, which you can find in different colors and with a smooth finish or a zig zag design.
6- EIGHTS BLANKET
Original knitted blanket with a cable design that you can find in three different sizes and in various colors. They can be washed at 30 ° C or they can simply be soaked in water by adding a fabric softener.
7- PADDED BLANKET
The heavy blanket for adults and is designed to provide a relaxing sleep experience using deep touch pressure therapy. Perfect for a nap or to put in bed.
8- FRINGED BLANKET
Soft wool blanket, New Zealand style, with a herringbone pattern in white and gray tones with fringes. It measures approximately 1 30 x 220 cm, with the fringes included.
9- SHEEP WOOL BLANKET
100% merino wool blanket, very soft to the touch and also available in blue and pink. Ideal to bring warmth to your rooms and with an approximate measurement of 140 x 200cm.
10- BLANKET WITH POMPOMS
A velvet blanket finished with pompoms. It has a soft and smooth touch, the double stitches improve the firm connection in the seams and better structural strength,
11- MICROFIBER BLANKET
This sofa blanket made from 100% microfiber polyester and has a good stitching. It is super soft and comfortable to the touch, it is also breathable and prevents wrinkles.
12- PLAID BLANKET
A sofa blanket with a combination of thick and thin stripes interspersed makes the blanket more textured, showing not only the modern style but also the comfort is not lacking.
13- REVERSIBLE BLANKET
Ultra soft double sided deluxe design blanket with flannel fleece lining and Sherpa plush backing. It offers you different senses of softness to enhance your sleep or nap with one fluffy side to the other.
14- FLOWER BLANKET
Pastoral style blanket with a variety of plant and flower patterns to choose from. It is soft and fluffy at the same time, improves sleep and provides maximum softness and warmth.
15- JACQUARD BLANKET
Large cotton blanket, measuring 200 x 230 cm. Ideal both for curling up on the sofa and for decorative placement on the bed. You can find it in different finishes and designs.
16- PATTERNED BLANKET
Designer blanket with print also available in blue and pink and in three different sizes. It is soft and warm to the touch that makes it ideal for winter.
17- ETHNIC BLANKET
Soft blanket and pleasant to the touch of multiple uses. Ideal to keep warm on cold days and to give your sofa a unique design. Measuring 127 x 230 cm and made of resistant materials.
18- BLANKET OF HEARTS
Flannel blanket with heart print, soft, warm and cozy, the perfect companion for the cold season. Available in four colors and with a size of 150 x 200 cm.
19- LEOPARD BLANKET
Soft texture blanket with 'animal print' print. It is available in five different finishes and with wide measurements to satisfy all needs.
20- SYNTHETIC HAIR BLANKET
Faux fur blanket for gorgeous softness and a luxurious layer of cozy warmth. Approximately 5 " thick on one side and velvety soft fabric on the reverse.
21- CLASSIC BLANKET
Lint-free fleece blanket with a classic checkered design. With a vintage style available in three different models, you can choose the one you like the most.
22- BLANKET WITH SLEEVES
An ideal blanket for colder days as it has sleeves so you can read, enjoy your favorite drink … without leaving the sofa. It is available in different colors and sizes.
23- TRIBAL BLANKET
100% organic cotton blanket, with tribal prints that you can find in different finishes that are available in different sizes. Ideal to add a touch of color to the sofa.
24- PLANT PLAIDS
The blanket is designed with a lot of style and tassels woven with fringes. A very soft and light blanket, cozy and warm. You can find it in up to five different colors.
25- EMBOSSED KNIT BLANKET
A blanket with a wavy design, light and soft, but very warm, very pleasant to the skin, anti-dust and breathable. It is available in many colors and measures 125x150cm.
26- PARCHWORK BLANKET
A patchwork-style quilt that is ideal on the sofa, as well as being a perfect decorative element. You can also use it in bed. It is available in different finishes.
27- FLOWER BLANKET
A soft and comfortable fleece blanket with a flower design to fill your home with joy and warmth. The blanket offers different sensations of softness and makes your sleep more pleasant.
28- RAINBOW BLANKET
If you are looking to give color to your rooms, this rainbow design blanket is what you are looking for. You can find it in two different sizes and it has a soft and warm texture that ensures a restful sleep.
29- ZEBRA BLANKET
An ideal blanket for lovers of 'animal print'. A flannel blanket that feels more breathable and lighter than regular cotton to keep us warm.
30- GLOW-IN-THE-DARK BLANKET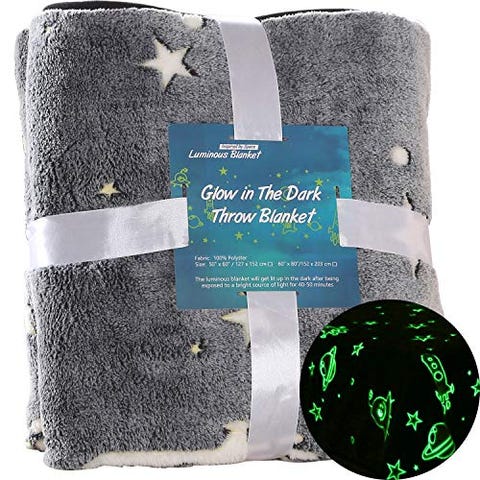 A very special soft and fluffy blanket with luminous patterns of the space will light up in the dark and create a beautiful atmosphere in your room or living room.