Ah, the summer! How not to love?! The season of the year when everyone appears to be happier, more tanned. Their time has come. Gardens, patios, terraces and balconies begin their high season. The most colourful streets – people find more energy for outdoor activities and everything is more beautiful. Summer is definitely the perfect time for outdoor picnics and lunches. Be it romantic or with friends, in the park, in the backyard or by the pool – everything goes to enjoy the hottest season of the year in the best style.
Terraces, patios, porches, balconies … If there is a space where we really love to be in good weather, it is outside the house. Freshness is sought and enjoyed more with decorations that enhance these rooms. Simple and effective details multiply the pleasure of being on the air. These 25 ideas can inspire you to make that corner of your house become the star piece of the summer. Take good note. and with these ideas, we will help you decorate them as they deserve.
1. Andalusian Charm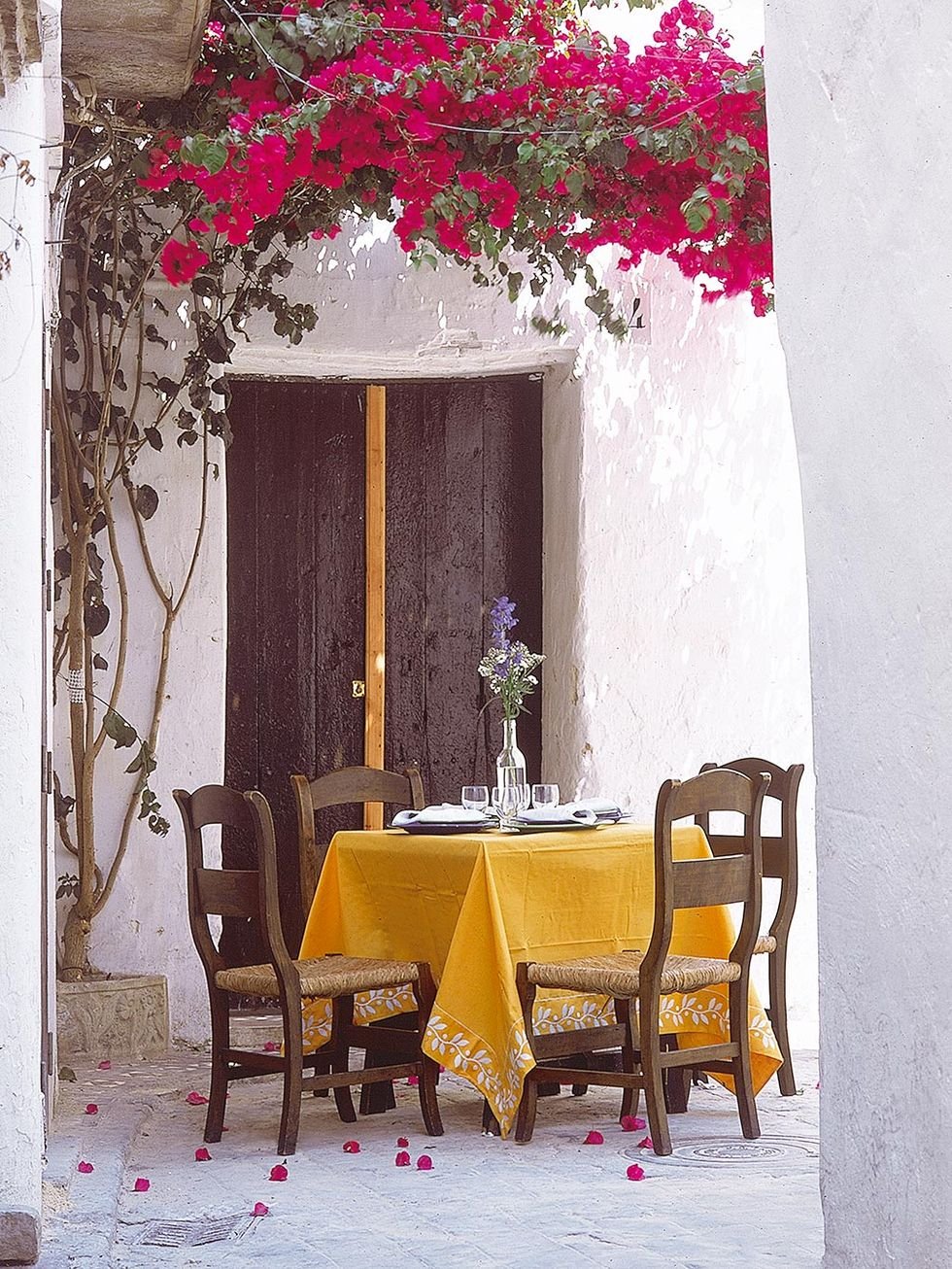 Whitewashed walls, wood and cattail chairs, aged doors … Give your patio a southern air with these elements.
2. Do a Good Deed
Nothing better to take advantage of a corner of your patio than to make two workbenches. They are a dream place to rest and, with a table, they make the perfect dining room.
3. Privacy Settings
A row of Alicante blinds will protect you from the scorching sun and allow you to decide what to display outside.
4. Think Green
The beauty of a piece of furniture is not only on the outside, we must also worry about its manufacture. Choose your purchases with ecological criteria.
5. In and Out
Combine outdoor furniture with pieces designed to be indoors. You will like the result.
6. Negligee
Are you looking for a piece that gives style and comfort to your patio? An antique iron bed is what you need. Fill it with cushions, put it under a shade and we assure you that you will not want to get up from it all summer.
7. Gentle Rocking
Two hooks on the walls and a hammock are all you need to make your terrace more inviting.
8. Imagination to the Power
With a pallet found on the street, a bit of skill and this 10 DIY you can completely change the look of your terrace.
9. One of Each
To give dynamism to your outdoor spaces, choose the same lounger model with different fabrics. In the variety is the spice!
10. Greenhouse Effect
To protect your plants, as a chill-out area, dining room or workplace. If you need a space where you feel protected, get a greenhouse for your garden.
11. Change of Terrain
If you want to define spaces on your terrace, you can place rugs or change the floors. In the image, the different environments have been marked using a wooden platform and a gravel floor.
12. Arabian Nights
Exotic rugs, the warm light of a lantern, low tables, a comfortable sofa … Travel to the East filling your terrace with these objects.
13. Remember Acapulco
The Acapulco chairs, anonymously created, are a design icon. Sculptural, happy. lightweight and quite affordable. A perfect purchase that you will never regret.
14. Perfect Imperfection
Aged woods, handcrafted pieces, unmatched furniture … Bring warmth to your terrace by betting on naturalness.
15. Textures
Combine materials to make the composition more interesting and balanced: leather, reeds, textiles, vegetation.
16. Touch the Fiber
There is nothing that calls more to the summer than the furniture of natural fibres. Dust off your wicker, bamboo and rattan pieces and take them out to your deck.
17. Welcome to Palm Springs
Palm trees, flamingos, iron furniture … The Palm Springs style is more fashionable than ever.
18. Comfort Zone
A sunroom is the perfect blank canvas to create a chill-out area. You only need a mat as it takes up all the space and lots of cushions. Visitors will never want to leave your home.
19. Tables and chairs
To make your outdoor area more inviting, accommodate a few chairs or side or centre tables. The ensemble is your great ally in family moments: it leaves guests at ease, comfortable and still creates a perfect atmosphere to gather the staff.
In smaller areas, chairs can be exchanged for puffs or futons. The two alternatives provide cosiness, without neglecting sophistication. Another creative option is to use benches and puffs as a table.
20. Pool Space
The outside of the house is considered a leisure area, so to make it more complete, how about a swimming pool? Ideally, the pool should be planned together with the construction of the house. However, plastic pools are also an alternative!
To complete the decoration, have some sun loungers and armchairs. As it is a humid environment, choose those that are waterproof, in order to preserve the condition of the parts.
Another detail that should receive attention is the choice of the floor. The non-slip models increase safety in circulation, is the most recommended for application around the pool.
21. Vertical garden
The opening to breathe fresh air and have more contact with the green transforms our mood makes us more relaxed and happy. So, take advantage of your outdoor area to connect with nature.
There is no lack of ways to adapt the decoration to the green, one of the most beloved is the Vertical Garden, modern and versatile. Here are some more ideas: panels with ferns, small supports with colourful flowers and pallets that support cacti.
22. Wall of bricks
This tip is especially for those who have a small outdoor area! The biggest concern of people who live in small houses and apartments is how to decorate each corner without creating clumps of furniture and excess information. The famous light at the end of the tunnel in these cases is to leave bricks insight.
When applied, the technique provides style and personality to the room, even if small. The bricks form an incredible panel contrasting with the other walls. And don't think that the material makes up only rustic styles. They are present in industrial and contemporary decor too! And you know what? Bricks are great for sound insulation. Perfect for our next trip.
23. Corner Of Rest
We have already agreed that the outdoor area is our refuge, right? And what can not be missing in corners like that? A beautiful and comfortable hammock, of course! They are at the top of the list of those who want to combine warmth and charm.
With different colours, sizes and models, the hammocks are extremely versatile pieces: good for sleeping, reading a book or even serving as a seat for the guest who has just arrived. To ensure even more convenience to the user, try to hang the net close to the brick wall. As mentioned, the panel acts as an acoustic coating making your relaxing moment even more pleasurable.
24. Outdoor dining
The external space of the house is an alternative to get out of the rut. Decorating the environment with tables and chairs provides incredible and peaceful moments, such as outdoor dining.
The idea gets even better when shared, so enjoy a warm day and invite that friend of yours that you haven't seen in a few months. Catching up and laughing is the secret to happiness.
25. Gourmet balcony
Nowadays it is difficult to find houses or apartments without a gourmet balcony, right? This environment is increasingly conquering its space in the universe of home and decor. By creating a relaxed and intimate atmosphere, it helps residents to share good times with special people. The tip is to bet on benches and stools when decorating yours.
Balconies are flexible to different types of housing. For example, in apartments, they can be integrated with the living or dining room. In homes, the gourmet balcony harmonizes with the outside area, unifying the environment. That is, it is quiet to have yours at home.