In summer these areas dress up. We usually equip them with outdoor resources: furniture, lanterns, garlands … The objective is that we can create spaces for recreation, rest and leisure, such as, for example, a dining room for the garden, a chill out room, an area slow relaxation, a corner for a siesta, etc. Therefore, we want to show you 20 ideas to decorate the patio, garden, porch or terrace.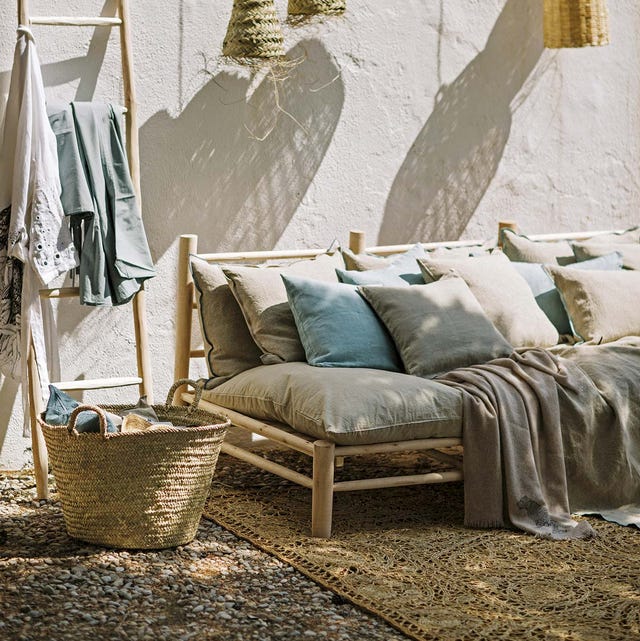 USE OF OUTDOOR AREAS
The amplitude of the terrace, porch, patio or garden can influence when making the design. In turn, it will depend on the needs we have and the use we give it. At the end of the day, it is an ideal place for summer nights, to have dinners with family and friends or, simply, to relax at rest.
The possibilities are several, to the point that you can make a cinema in your garden, a function that is currently a trend. And the siesta …? What do you say about that moment in the shade with the breeze hitting your face? Enjoy a good rest in any part of the exterior of the house.
1- A SUSTAINABLE AND EXOTIC DINING ROOM
Outdoor dining room
A space like this always comes in handy. Do you like the idea? The Marilin bamboo table with natural finish is super functional (it measures 150×80 cm) and is suitable for the interior of the house at the end of the summer. His director chairs, Woody, are made of the same material and create a fun and youthful atmosphere. From Sklum.
2- YOUR CORNER TO NAP
Boho porch with macrame hammock
Do you have room for a hammock on your terrace? It is the star solution if you like to rest with its gentle rocking. This one is made of macramé , it is 2 m long and you can fix it to the walls or the ceiling. Next to it, some low side tables where you can put your things and some seat cushions for friends and enjoy! From home.
3- SHELTERED FROM THE SUN
Modern outdoor dining room with sail awning
The candles shading are an easy option to protect the terrace. Triangular or rectangular, any outdoor dining room, like this one by Leroy Merlin, gains in comfort with them.
4- COUNTRY MODE
Decorate the outside
A wicker bench is perfect to give this air to your outdoor space. If you want to reinforce that aesthetic, put a night table made of the same material. And you can not miss some soft cushions that guarantee great comfort; SØstrene Grene.
5- LIKE THOSE OF A LIFETIME
Natural rattan outdoor furniture does not go out of style and if it has a tubular structure, it is lighter. Check out this Bauhaus idea, it goes great in a small space. Its high-back armchairs, the matching coffee table and a rug create a cozy and collected corner.
6- NO RULES
Small outdoor dining area
A garden scissor chair, a canvas indoor chair and a round table with a conical foot that does not go unnoticed. The set could not be more original, it takes advantage of a passage area and can be disassembled if necessary. From Habitat.
7- TIMELESS
Black outdoor dining room
Timeless designed dining rooms are a great choice. The simplicity of its pieces makes it easy to combine them with an infinity of materials. And they gain warmth surrounded by wooden surfaces in natural color. Like these aluminum chairs and their Swan table, with a frosted glass top. The dark gray of its finish, a trend tone, is enough to achieve an elegant final effect.
8- A LOUNGE IN THE GARDEN
Combinations of wood and natural fibers never disappoint, to create warm outdoor lounges that are easy to integrate into any style. Another advantage is that they allow you to include different types of seats. Like the sofa and twin armchairs here.
9- MOVIE ATMOSPHERE
Outside dining on the porch
A special lighting can not be missing and it is easy to achieve it. Fill the ceiling with bright flashes with garlands of LED bulbs, create corridors with candles and lanterns … It's that magical. From Lights4fun.
10- WITH AN ARTISAN SPIRIT
A whitewashed wall can be the setting to create such a relaxation area. Go for benches and accessories made by hand with authentic materials, such as poplar wood, esparto grass and cane. This will be the result, an idea from Let's Pause.
11- A SUPER INTIMATE EVENING
Garden furniture dining room for two
In the garden you can create an intimate and romantic space. This can be seen in this H&M space, converted into an elegant corner for dining by candlelight. Its location is unbeatable: the trees give freshness and privacy to the environment. The round table reinforces the intimacy and its modern design, with a large base finished in brass. The chairs, with legs of the same finish and upholstery in a sand tone, accentuate this effect for a timeless ensemble.
12- A SLOW RELAXATION AREA
Garden furniture wooden sofa boho style
It has everything to disconnect. The teak sofa invites you to lie down as it is reinforced with a mattress and large cushions. The table, the carpet and the cushions allow you to bring the slow movement home.
13- A BOHO CORNER JUST FOR YOU
Garden furniture boho style armchair
Would you like to have one like it? Its sofa at ground level allows you to set up very comfortable chill out spaces , since its cotton mat is 29 cm thick. In addition, being modular you can make it grow as you please. And a fiber screen will keep you safe from glances.
14- TOUCH POP
Garden furniture colored metal armchairs
With such a set it is very easy to create areas to meet without rules. These chairs, covered with hydrophobic fabric, guarantee an optimal space for rest and do not overload anything. The ideal is to mix them in different colors and add matching tables.
15- WITH INTERIOR FURNITURE
Garden furniture dining room on the porch
A wooden table and dining chairs with an ergonomic seat may be the dining room you are looking for. Think of tables with extensions – there are those that grow from 4 to 10 people – if you need it. And in the auxiliary carts to have the service at hand; in fact, they better have wheels. De La Redoute Interiors.
16- NAP TIME
Garden furniture lounge on the porch with hanging chair
Do you like hanging seats? They fit well in corners or passageways. Like this one, from Kave Home: you can take it wherever you want. Include it in your space with an oval outdoor rug in summer colors. They take!
17- MOMENTS TO CONTEMPLATE THE SEA
Garden furniture armchairs and cane coffee table
Enviable views of a Mediterranean landscape, the best excuse to set up a corner as relaxing as this Bauhaus setting. Everything in it allows you to enjoy reading moments: its vegetable fiber (natural rattan) armchairs offer high comfort due to their anatomical shape and armrests. Cushions accentuate comfort and add color. On the other hand, the fiber side table has the perfect measure to leave drinks and books. Pure harmony with nature.
18- VERY COMFORTABLE GATHERINGS
Garden furniture gray resin sofa in the garden
To beautify the exteriors of the home, the resin sets are perfect for setting up chat rooms in open spaces next to the fences. Its sofas and armchairs are wide and its appearance is warm by imitating rattan itself. In anthracite they are very modern.
19- SHADED DINING ROOM
Garden furniture dining room on the porch
This covered terrace invites endless after-hours. Its teak table makes good use of the bottom as it is rectangular and the workbench doubles the seats without diminishing width. Its rustic blinds are a success to protect it from the sun and enjoy a perfect cross ventilation. The English Court.
20- IDEAL PORCH
Garden furniture wicker sofa on the porch
Sets of natural fibers are a great option to create environments connected with nature. The best thing is to orient them towards the landscape: a sofa and several armchairs. In addition, we can put a ceiling fan with light to enjoy cool evenings and thus enjoy a beautiful living room on the porch.