Children need a space to relax, play and learn, a world of their own where they feel comfortable. These twenty rooms that we show you are full of good ideas, don't hesitate and sign up!
1. A Bedroom on Two Levels
The original arrangement on two levels is a good idea for those small rooms that want to separate environments and gain a feeling of spaciousness. Also, if you want to add a touch of colour to space, put a cheerful banner garland.
2. A Bed With Storage
A good idea for small bedrooms is to take advantage of the bed to create storage space. The one in the image is divided into drawers. Another idea when you have bunk beds is to put floating nightstands.
3. A Reading Corner
It is important to encourage reading in children, do not hesitate and create a special little corner for it. So reading will be enjoyable and fun.
4. A Multifunctional Piece of Furniture
When children are young we need a lot of space to store all their things and the bedroom in the image gives us a great idea. The wooden cabinet serves as a bed, as a storage cabinet and as a desk.
5. A Very Original Wardrobe
Dare to decorate with original pieces, this bedroom, for example, has a white closet that resembles the lockers of American institutes. There are also other options such as painting the one you already have in a striking colour.
6. Two Consecutive Beds
It is a good alternative to bunk beds or beds placed side by side. In this way, space is used much better. Another idea that we can take from this bedroom is to decorate the white wall with posters and pictures that children like.
7. A Very Well Used Bedroom
Light colours relax and calm the environment, white and wood are ideal for children's bedrooms. We love this structure that we see in the image, it serves as a bed, headboard, nightstand and storage area, it is ideal for small spaces.
8. With Study Area
This idea works, above all, for smaller and more youthful rooms. To make the most of the space, choose to place a single bunk and under it mount a study area.
9. A Large Blackboard in the Bedroom
This may be every child's dream. Take advantage of an empty wall in the bedroom to place a large blackboard, it will serve both to review the lesson and to unleash your creativity.
10. An Original Wallpaper
To decorate the walls of children's bedrooms, it is best to opt for wallpaper. There are many options and very original. In the image, they have opted for a white one with black polka dots.
11. A Small Sink in the Bedroom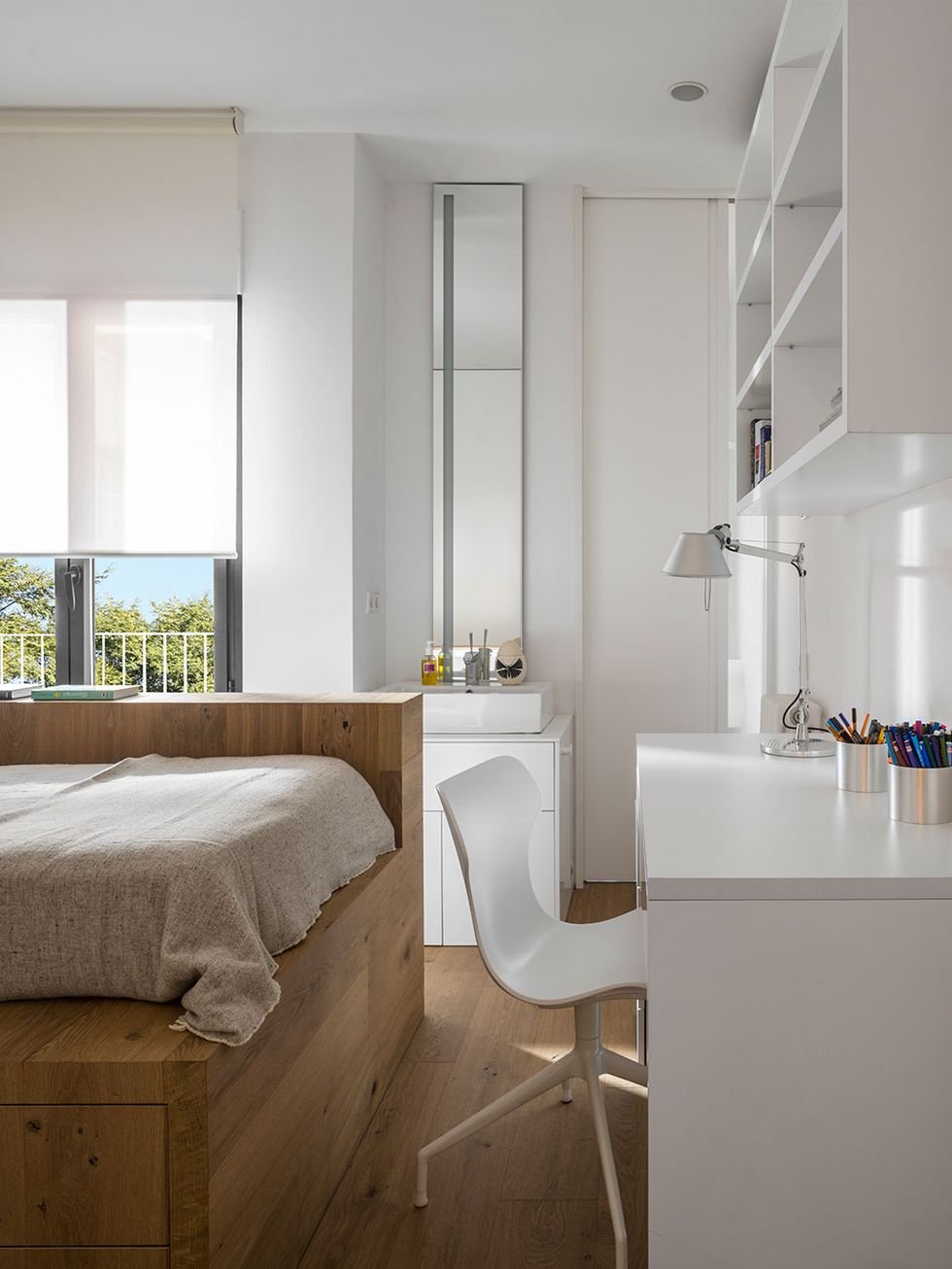 A good idea is to place a small toilet area in the bedroom, you only need a cabinet with a sink and a mirror.
12. A Relaxing Room
It is important to create a pleasant space that invites you to rest or play quietly. We can achieve this by decorating the bedroom in light tones. Go for white as a base, then add little touches of blue and wood. As you can see in the picture, it works like a charm.
13. A Two-color Wall
We love the idea of ​​painting the wall in two colours, it is elegant but fun, it also works as a separator.
14. A Play Corner
And although the bedroom has to be a quiet and relaxed area, there is room for a small corner to enjoy games, yes, everything has to be in order. Store the toys in baskets and place an original piece like these rings.
15. With Leisure Area
And although the bedroom has to be a quiet and relaxed area, there is room for a small corner to enjoy games, yes, everything has to be in order. Store the toys in baskets and place an original piece like these rings.
16. A Royal Bedroom
An original idea is to decorate the children's bedroom with a theme, in this case, they chose to create two beds for little princes or princesses. What we like the most are the original canopies.
17. To Store the Toys
It is very important that your child's bedroom is well organized and that it is easy for him to do it himself. Therefore, a good idea is to have drawers under the bed or a storage unit suitable for the little ones.
18. In the Attic
When the space is bright, an attic bedroom can be wonderful. You can create a nice room by using colours like white or gray.
19. Curtains for Separating Rooms
A very good idea is the use of curtains to separate rooms, so you can have an open and wide space when you want it or, on the other hand, a private and quiet one.
20. A Fairytale Bedroom
Children's imagination is very important, that is why it is necessary to encourage it. In this bedroom, they have tried to recreate a castle with two beds and storage space on the stairs.