With spring, the afternoons arrive on the terrace to savour the first rays of the season's sun. For this reason, we have compiled 15 ideas with which you can customize your terrace set in the style you want, from a more urban one to a more rustic one with original touches. Ready?
1. Portable furniture 
Make the most of your terrace and enable it to do some outdoor sports. There are infinite solutions to be able to do it comfortably; For example, you can find a fantastic outdoor floor with which to avoid nailing the pebbles on the floor.
2. Natural fibers add a rustic touch

In tables, chairs, stools, baskets, rugs or enclosures … Natural fibers are an indisputable trend that is here to stay. Best of all, it brings that cosy and natural touch that so characterizes Mediterranean gardens. And it is very easy to combine!
3. Mix patterns to redecorate your terrace!
The cushions can play very in your favour to give colour to the terrace. But remember! The tones you choose should go according to the colour that predominates in your garden. The next step is to choose the type of pattern that you like the most, although this season the geometries are the most beloved.
4. Coffee tables are a must
Play with the symmetries of the terrace by placing two small coffee tables instead of one. This visual game will provide a feeling of lightness and is a way to optimize space. Another option is round tables, curved lines and sinuosity are a strong point this season!
5. Shade for the terrace
Other accessories that cannot be missing are pergolas or awnings. Our recommendation is to choose them in neutral colours and avoid those that are more strident. In the end, its main utility is to provide shade and the decorative point lies in the format. eye! Do not forget to take into account the measurements of your terrace.
6. Outdoor rugs
Outdoor rugs must have basic characteristics so that they do not lose usefulness, so our advice is to focus your attention on those that are resistant to water. In terms of design, bright colours can be a good option to risk and enhance the colour.
7. In and out
Another of the great trends for this spring is a marvel! They are sofas that will allow you to enjoy the comfort of your living room but on the terrace. They are lighter than what you would place in a living room. In addition, they are usually designed so that you can change the cushions in a super simple way and their materials are very light so you do not have to change them in summer. They are the bomb! 
8. White will always remind you of Ibiza
If you are not a fan of bright colours, you can always choose white to cover your terrace. It is a colour with which many combinations can be made, although our favourite is blue. Transfer directly to the beach!
9. Minimalist vases
Vases are another of those elements that cannot be missing from any terrace, balcony or garden. In addition, they can be used as flowerpots and with the diversity of materials and shapes that there are, you will surely find one that fits perfectly with your terrace. We show you some suggestions!
10. The industrial style is also carried on the terrace
The key is to incorporate materials typical of this style such as metal and combine it with neutral tones such as gray. In addition, it is a way to give a more urban look to indoor terraces or patios. Ideal for most urbanites!
11. Vertical gardens to redecorate the terrace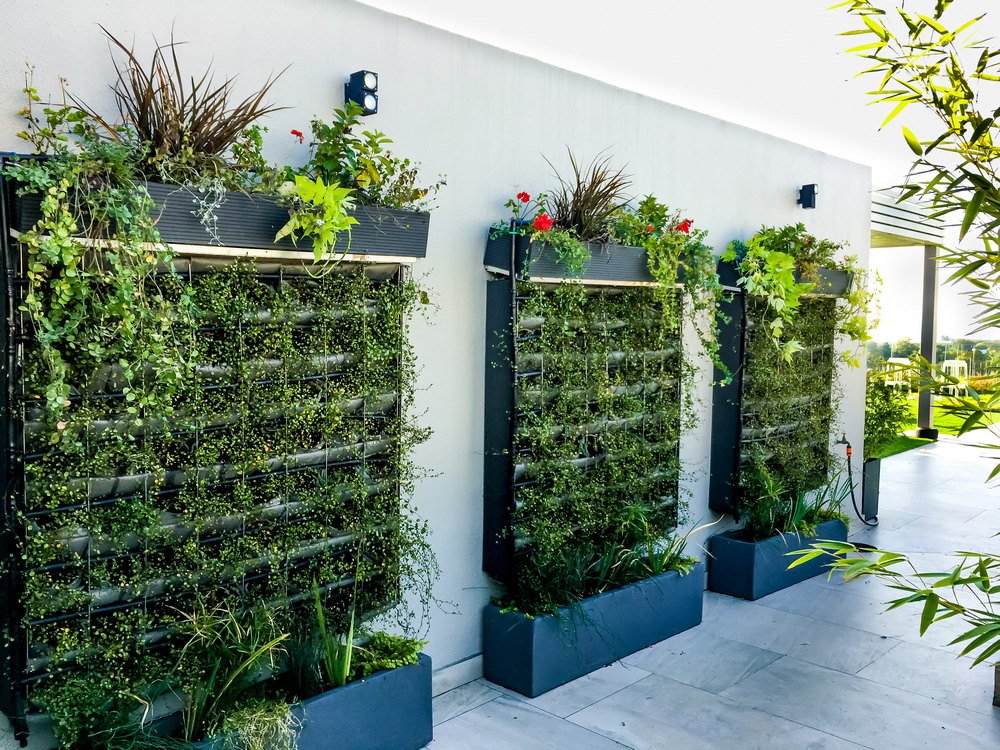 Sometimes the point where you least pay attention when it comes to bringing originality to the terrace, especially the smallest, is the wall. However, this area allows you to create an original touch: vertical gardens.
12. Portable lamps
Portable lamps have a very minimalist design that allows them to be placed anywhere on the terrace without taking up too much space. This is ideal for smaller outdoor spaces. In addition, many of them have a handle to be able to transport it easily. 
13. Don't let the water stop you from having plants!
If you continue to resist decorating the terrace with plants because you hate the watering process, another of Kave home's great solutions are self-watering pots that are made of terracotta, so your plants will be protected outdoors. Functionality and trends can go hand in hand! 
14. Redecorate the terrace with Zen air
For this style, the cascade, the walls and the wooden floor, as well as a Buddha sculpture are the basic elements that your terrace must-have for this trend. You can allocate a corner for this type of style, in case you have enough space.
15. Wall decoration: mirrors are the key
Mirrors are an element that is not usually placed on the terrace. However, they are a very good choice to play with perspective and provide breadth. The rectangular ones are classic, although there are many formats. Which one do you like the most?